Street Eaters
Apr 17
There's a great show happening TOMORROW NIGHT (April 18) in Oakland at RCA (510 BAD-SMUT for address)! 8pm for real, ends by midnight! SURVIVAL KNIFE (members of UNWOUND, WESTERN HYMN) - STREET EATERS - NO BABIES - REPTILIAN SHAPESHIFTERS! All Ages, $5. …share this if you feel so inclined…
BTW, here is some live footage of Street Eaters playing at the York House in Highland Park last weekend, shot by Todd…

Apr 04
EUROPE TOUR BLOG PART V - GERMANY, HOLLAND, AND HOME
So! It has been a couple of months since the last blog update, and we are currently on tour in SoCal and the Southwest for a short fun jaunt that we'd really like to share with you. First, however, we never completed our Europe tour blog from November, 2012 - After Hungary (see prior blog entry), we had a bunch of great shows in Germany and finished up with a fun night at OCCII in Amsterdam. Here are a bunch of photos from those shows, the places we went around them, and some of the great people we had a chance to meet. Special thanks to Flo at Cut The Cord That…Records/Trapdoor Tourz for putting out our new EP and making the German dates happen.
Real quick, though, here is the tour poster and remaining dates for our SoCal/Southwest tour we are on RIGHT NOW:


Specific info here… http://streeteaters.com/track/shows-tours
Yours trulies in front of the infamous Zoro in Leipzig.
The gentlemen of ABSURDO (touring the West Coast this May, by the way - dates will be posted here soon: http://absurdo.interrupciones.net/index_eng.html) in their new ride.
Definitely not ABSURDO's new ride. I guess cops aren't much brighter in Europe than they are in the states.
The crew at Nexus in Braunschweig, delicious breakfast of many breads n' spreads at center.
Did I mention that we were gifted this enormous chunk of ancient castle foundation in Szeged and that we were using it for a kick drum stopper for the rest of the tour? It weighed about 60 pounds and dinged up about 12 stages.
In the basement squat bar Trickster in Berlin, hanging with our most most excellent new friend Laura (left), who splits her time between Leipzig and Berlin. The bartender was also an awesome dude. In the middle is our old comrade Ella from Athens (GA.) heroes DEAD DOG, who just happened to be in the neighborhood.
Our Canadian buddies Unfun ruling it at Trickster in Berlin - a last minute show that turned out absolutely awesome, packed and crazy.
Bay area native Mikey Porter, adapting well to his new life as office manager/screenprinting Meister, Frankfurt.
Turbomate, only 1.50 euros. It is either a delicious new alcohol/Yerba Mate combination or a revolution in speed dating. AJZ Squat (est. 1968), Bielefeld.
Megan and Kelly (drummer for P.R.O.B.L.E.M.S., also plays for PIERCED ARROWS) at AJZ. P.R.O.B.L.E.M.S. were awesome, classic Poison Idea-inspired Portland punk.
Our recording engineer/spirit guide Matt Waters gets a chance to model the latest free store fashions, Freiburg. He was working in Zurich that week and getting to see him was an extremely pleasant surprise.
IS DODELJIJK, a great and very young noisy/raw hardcore band in Erlangen. ABSURDO played that show with us, too, and were great as usual. Our hosts Jess Threat and Andi were some seriously good people, really looking forward to seeing them again.
ABSURDO, getting gnarly again at Juz in Mannheim.
….and us STREET EATERS, also getting gnarly in Mannheim.
This would be us STREET EATERS, taking a quick pause from being interviewed live on the radio in Hildesheim before our killer show at Veb.
A video of us playing at Veb.
Life imitates art on the German streets.
Yes, that is a giant ice cream cone smooshed into a building in Koln.
The legendary squat space OCCII in Amsterdam, where Bianca set us up a super fun show to wrap up our tour. Set in a neighborhood that has slowly gentrified around it, the front facade was rebuilt by local punks to reflect the beautiful woodwork of traditional Dutch construction - a sharp contrast to the flashy modern, yuppie-ish architecture around it.
Megan hanging out in front of OCCII.
Lady-fronted rockers HELLO ANIMAL played just before us. Sadly, it was their last show.
We played until 2am then had to re-pack everything and figure out how to make everything fit in our luggage without incurring crazy overweight luggage fees. By the time we were done, it was 4am and we got up at 6:30am for our 9am flight - had to return the car first, too. It was intense. The flight was delayed, of course, so when we finally made it to our connection in Heathrow (London) our flight to the US was due to leave in 30 minutes. We had to run across the entire airport (about 1.5 very crowded miles weighted down with our heavy-ass carryon luggage full of vinyl), and stumbled aboard the plane with 2 minutes to spare. Our seatmate was not pleased with our stinky, sweaty selves, but Megan charmed her by stealing extra little liquor bottles from the cart and sharing.
Homeward and victory. xoxox Europe, we will be back.
Feb 05
STREET EATERS EUROPE TOUR BLOG PART IV: IMPERIA TO BUDAPEST
Day 17: Imperia, Italy
Megan and the Italian puuuuunx outside A.C.P.O. Clubhouse
After leaving Nice, we made our way on the Cote d'Azul towards Imperia, Italy. The drive was really intense - lots of tunnels winding through mountains along seaside cliffs. It reminded me of Devil's Pass on the CA 101 - totally dangerous and totally amazing. The torrential rains that fell the entire drive made it a bit more intense, as well, but the drive was only a few hours long so we enjoyed ourselves and didn't get too tired out.
The Imperia show was organized by our friend Alice, who is a part of the Babilionia collective, a super-energetic group of Italian punks who had recently lost their long-running autonomous show space (15 years!). Nonetheless, the collective was really rad and chose to do our show anyway, and rented out a bar that was the clubhouse for the local Communist Party Dock Workers Union. The space was really cool and down by the boardwalk/waterfront - kinda like a restaurant/bar/clubhouse/show space type-thing. We were really excited to be playing a show there because spaces like this do not exist in the US.
Inside the clubhouse
Naturally, there was Communist memorabilia all over the walls, including lots of flags, event posters, logos, and the standard photos of Marx and Lenin, as well as more local heroes/legends of the Party dating as far back as the 1930s. There was also a big display of gnarly-looking hooks and fish-gutting implements mounted on a red velvet background, which were also assumedly useful for gutting the local fascists and/or exploitative bosses.
Nicely-mounted boss gutting implements

Before the show, we set up our stuff and then we sat down for dinner with all the collective members. I stumbled through a few awkward conversations trying to practice my Italian, but it was a little rough cause I haven't really spoken the language since 2005 when I lived in Italy. At least I got people to laugh. The other band was legendary Imperia hardcore band CGB, who have been around since 1987. They were loud and really fast, great classic hardcore, and I really enjoyed their drummer.
The show was really great and went super late. The collective was having a meeting trying to decide their future direction with finding a new space, and since it was late and people were kinda drunk, disagreements dragged on. Even when those kind of talks last longer than usual, I understand that is how consensus-based process works and I think that those discussions (drunkenly or not) are what makes a collective stronger.
We stayed at Alice's parents' house, perched on a cliffside in the hills above the town. The room where we slept had tons of classic comics and a mattress - we were set. In the morning I met Alice's mom and dad. They were working on getting the roof repaired, but still managed to hang out with us a little. Her mom was very sweet and gave us some breakfast, as well as a jar of homemade plum jam to take with us. Her dad showed us his new guitar, and even played a bit of blues. It was really nice.    
Hanging out at Alice's house
We were sad that we couldn't stay for lunch, but our next show was in far eastern Slovenia and we had to drive basically across all of northern Italy and Slovenia  in 2 days, so we had to cut out. Here's a video of us driving out of Alice's driveway, and almost off several cliffs:
Day 18: Duino

We drove and drove, thinking that we might try and stay in Trieste for the night. We were worried about the van getting broken into, and also being on a budget, so we ended up staying outside of Trieste in a small town called Duino. Duino has a castle, and some cool walking trails along the coast where German poet Rainer Maria Rilke waxed rhapsodic about the Mediterranean, so we ran around along the cliffs and looked at the ocean.
The oh-so-picturesque Mediterranean Sea, all sublimely lit and laughing at our scruffiness

This was the first day off we'd had in 3 weeks, and it was really nice. We ended up watching a little TV, which was interesting because we were close to Slovenia so they had a Slovenian version of American Idol (or whatever Star Search-type thing is happening now), complete with Slovenian celebrities as judges and some really weird karaoke talent show action. All the same archetypes seemed to hold: Some judges were nice and some were assholes, people exploded in emotion (tears or squeals) as decisions were made, and the whole thing reeked of incredible, bizarre desperation. This desperation turned downright sinister as it became apparent that the goal of the show was to get one of the judges to personally take you under their wing as a producer or whatever…The winner was a barely-pubescent, emotionally-fragile Eastern European Justin Timberlake wannabe, who seemed to have been "chosen" by this super-creepy fortysomething judge-dude, cue ball bald, wearing wraparound Black Flys shades and a shimmery silver jacket+pants ensemble. The judge put his arm around the kid and walked him off into the darkness backstage, all to a crazed ovation from the audience. Something was obviously very wrong, but clearly we were powerless to stop it.  
Slovenian Idol has a mesmerizing effect
Day 19: Murska Sobota, Slovenia

We soon took off towards our next show in Murska Sobota, Slovenia - we were really close to the border in Duino, though we had a long drive ahead still since Murska Sobota was on the opposite (Eastern) side of Slovenia. When we crossed the border, we saw what looked like a burned out shell of what used to be the border patrol buildings. It was a pretty extensive-looking complex, which makes sense since this used to be a major border between the Communist state of Yugoslavia (which Slovenia was a part of before the former country's dissolution in 1990) and the Capitalist state of Italy. Now, the border buildings held nothing except for shattered windows, lots of graffiti, and a few creepy-looking cameras. The Slovenian freeways were just like all other European freeways, but we were a little freaked out when we'd pass through toll booths, and there was no machine or person to take our money. There were lots of cameras, though. What the hell? Are there just no toll roads in Slovenia? We saw a cop and tried to get his attention to ask, cause we didn't want to keep getting fines if the cameras were fining us, but he ignored us.
Turns out that if that cop had talked to us, he would have demanded at least 300+ Euro for not having what's called a vignette. In most Eastern European countries, you have to purchase a vignette from a gas station for around 10-15 Euro per week; it is a sticker that goes on the inside of your windshield. It's a way for countries to collect tolls for the use of their highways without having to spend money on the infrastructure of toll booths. So, halfway across Slovenia, we bought a vignette, and hoped that the cameras wouldn't send us tickets in the mail. So far so good…..
The town Castle of Murska Sobota. We played in there.
We got to the town of Murska Sobota in the late afternoon. The show was in the town's old castle, which is now used mainly as a community center - we got to drive right through the front gate and park in the central square, next to the venue. Our host, Tomica, was super nice and really made us feel at home with snacks and all the cappuccinos/caffeinated beverages we could drink, as well as a delicious meal. We did a really extensive sound check, which was good cause it gave me a chance to fix a lot of broken things on the drumset, and John got his amps sounding perfect. We had a great time hanging with the other band, VLASTA POPIC from Croatia (about an hour away). I was especially excited to meet their drummer, a fellow lady drummer, who was totally killer. I can't say enough great things about this band. We heard hints of THE EX with GANG OF FOUR and DOG FACED HERMANS, mixed with the more-melodic SONIC YOUTH hits, but these comparisons are from our perspective and don't acknowledge that they are totally from their own musical context/tradition in Croatia+the former Yugoslavian states -  something we had heard bits and pieces from in the past, but have discovered more as we have checked out other art/punk bands from the former Yugoslav republics over the last 30 years like REPETITOR, DIE HAUSERS, JARBOLI, OBOJENI PROGRAM, ŽEN, etc. We've played the shit out of the Vlasta Popic cd for friends along the tour and since we've gotten home - they are so awesome!
The excellent Vlasta Popic
There was a great crowd at the show, probably because not much happens in Murska Sobota other than shows in the castle, and I think they really got what the two bands were doing. I wish we had some footage from the show, but we were so taken with the castle and all, we forgot, so we just have a few pics and a short video of us driving out of the castle.


After the show, we went to a nearby hotel that was walking distance away; our host had a couple of small kids at home so he arranged with his friend who works at the hotel to put us up for the evening. We were so excited to have a hotel room, that never happens on tour!!! When we walked in we asked if it was a smoking room, and the lady said that all hotel rooms in Slovenia are non-smoking, and we were not allowed to smoke, so of course this was a non-smoking room. Funny thing was that the walls, bed, and pillows, curtains, and carpets were drenched in nicotine and there was a fresh pile of ashes next to the bed. So, perhaps the room because nonsmoking 20 minutes before we showed up, right after they told the ex-KGB agent who'd been laying in the bed smoking and watching TV since 1990 to beat it.
We took showers and jumped up and down on the smoky mattress for an hour or so, walked through a park with a Stalin sculpture and a sculpture of the Soviet liberators of Yugoslavia from WWII, and watched some TV. Since we were close to the border with Hungary, we tuned in to what seemed to be the Hungarian version of American Idol. It was similar in creepiness to Slovenian Idol, really (details a couple of paragraphs back), though Hungarian Idol also had the sad-yet-kind-of-hilarious subtext of being made in a country with its own currency (the Forint), that is worth much less than the Euro or dollar. Thus, the grand prize was ONE MILLION FORINTS - approximately five thousand American dollars. 5 grand just doesn't seem like enough money to potentially subject oneself to the very private mercies of the world's creepiest judges/"producers", even in a relatively poor country. But hey, I guess some people want to be famous no matter what the price - even if that involves wraparound shades and shimmery silver shirts. 

Memorial, in the park, to the Soviet forces that retook Murska Sabota from the fascists during WWII
Day 20: Ajka, Hungary

The next morning we escaped the nicotine den of our room and lurked our way to the hotel lobby, where we were expecting some stale rolls and coffee for breakfast. Turns out eastern Europe takes breakfast really seriously and there was an amazing spread of all sorts of things pickled, baked, and breakfast-y. We also encountered a phenomenon, one we would encounter again numerous times in Eastern Europe, where parking lots are totally open to enter, but very securely locked when you want to leave. In other words: IT'S A TRAP! We eventually escaped the land of delicious breakfast and headed towards the Hungarian border - for some reason, though, the GPS led us there via tiny, 1.5 lane roads in the middle of dense forestland, rather than the main highway that we could have easily taken (at least according to the map we should have consulted in advance). The "border" looked like something out of a postapocalyptic movie from the 80s, just a long-smashed-up toll booth in the middle of nowhere in the forest, replete with a broken striped gate lying in the grass off the road. We were freaking out because it was a Sunday, and every village we passed though was completely deserted and shuttered up, like they were preparing for an attack from Frankenstein or something. Where were we going to find a vignette? Also, our Euros didn't work anymore!!
They turn into rampaging Golems at night
So, right before we hit the freeway, we found a gas station that sold us the vignette. We got a few thousand Forints, too, which was like seven dollars. We got on the real highway and drove for a while and then got really, really sleepy - the flat agricultural landscape was pretty but had a tranquilizing effect after a while. There weren't many stops on the highway, but we managed to find a turnout that fit our van like a glove. We slept for a while, until we heard somebody walking up to the van. I thought it would be cops, but it was just a concerned resident that wanted to tell us where a motel would be, cause John kept saying, "We were just trying to find a place to sleep". Confusion set in, and it was time to push off.
The only hill for several hundred kilometers
Luckily for us, right in front of our van was a very picturesque small mountain (think a little bit larger version of Albany Hill), surrounded by otherwise flat landscape, which had some pretty vineyard villages, and also supposedly had a castle on it (at least according to our GPS). We had some time before we were needed at the show, so we ascended the one-lane roads of the mountain in our truck. There were lots of vineyards and pretty country farmhouses, and we later learned that this was actually a famous spot in this region of Hungary. We parked the car and went on a really cool hike through the surrounding woods till we got to what seemed like the top of the mountain, hoping to find the castle, but there was none. Later we found out we were on the wrong side of the mountain (of course), but it was getting dark  and we had to go. We did get some nice views of the surrounding country, and it was good to get outside for a while.
Mysterious path up the Hungarian hillside
    We got to Ajka Town later that evening, and met Gagarin and Mary Anne, who set up the show. They introduced me (Megan) to the Hungarian drunk Palinka, which was kind of vodka-like, but much stronger. It didn't get me drunk per se, but rather warmed me up from the inside. The show was in a community space, a former Communist Party event hall. Even though it was a little weird that we were the only band, people came to check us out, and some even brought their kids.
Some awesome art in Ajka, Hungary
It was definitely a different kind of show, much more local - and hanging out with Mary Anne and Gagarin was the best part. They are avid animal lovers, and we stayed in their house with, I think, 3 dogs and 2 cats, all of which got along with each other better than most humans do.
Day 21: Veszprém, Hungary

We really enjoyed Mary Anne and Gagarin's company, and the next morning we ate Langosh (which is a kind of fried bread with cheese in the middle) and went for a walk around their town, Devescher. In conversation, they kept mentioning a Huge Catastrophe and "The Red Sludge" that came in the morning, and I had no idea what they were talking about, until we went to the town's museum. It was closed but a friend of theirs (the caretaker and artist-in-residence) let us in.
Then things became clear- the Red Sludge was actually a huge industrial "accident" in 2010, during which a nearby chemical plant's levee's broke, releasing 1 million metric tons of caustic red sludge that was the byproduct of Aluminum production, spilling throughout several villages, though with the worst damage in Devecser. Lots of people and animals died, and numerous homes and buildings were destroyed. The rivers turned red, overflowing by a 7-foot surge, and all the life in them died. Gagarin and Mary Anne's old house was located directly in the floodpath, and they sustained severe burns on their hands and legs going outside to save their animals from the torrent of sludge. This catastrophe happened 2 years ago, and due to corruption it is only now being investigated. The chemical company (which is partly owned by the current right-wing Hungarian president) maintained that the Red Sludge was harmless, but people got huge chemical burns wherever their skin made contact, and several people died from exposure to the chemicals. The strength of the flood also caused a lot of people to drown. Here's a wikipedia page about it:
http://en.wikipedia.org/wiki/Ajka_alumina_plant_accident
Items from Devecser that were covered in corrosive red sludge

It is hard to see injustice like that so up close and personal, but it really serves as a sad lesson in what can happen when corruption and a near-total lack of environmental regulations come together to create a human-made disaster. I hope that the people of Devecser can get justice for what happened to them.

We spent a nice afternoon hanging around with Gagarin and Mary Anne, and thought we'd have the night off. However, a guy we met in Ajka (named Aron), who is from the nearby city of Veszprém, dropped us an email offering to set up a last minute show for us in his band's practice space in that historic city. We were happy to have a chance to play another show, so we got our stuff together and hit the road…Gagarin and Mary Anne rolled along with us, too. We got to Veszprém a few hours before the show and were treated to a tour of the historic city center by Gagarin and Mary Anne, with Mary Anne doing most of the talking since Gagarin is a bit older and grew up in the Soviet Bloc era, where he learned Russian at school as a second language rather than English.
Veszprém was an important seat of power in Hungary from around 1000 A.D. until 1918 A.D., starting as a major administrative and religious center (of the Holy Roman Empire) for the Magyar (Hungarian) kings beginning with Stephen I, and continued to maintain its importance up through the conclusion of WWI with the dissolution+defeat of the Austro-Hungarian Empire. The grandeur of the buildings and monuments certainly reflected this history, and it is really interesting when visiting Hungary to realize just how much political power used to be centered around the Hungarian rulers in this region, and for such a long time - a history that most Americans are not really privy to. This has led to some bitterness amongst nationalists, of course, and Gagarin+Mary Anne told us a bit about current misuse of such national symbols and misplaced pride in old empirical ambitions. Apparently, the recently-elected Hungarian president (who partially-owns the Aluminum plant in Devecser that destroyed the town, and who we would hear more about in the following days) has some discomforting fascist tendencies, particularly in his strong promotion of long-dormant Hungarian nationalism and an increasingly repressive focus on Roma (Gypsies) as the source of all the country's crime and social problems.
Monumentally Veszprém
Soon the temperature started to drop well below freezing, so we headed over to the practice space address and began to load our stuff in for the show. An enthusiastic group of local punks and metalheads were gathered around in the entry area smoking and hanging out, and the tiny-but-awesome practice space we were to play in was all ready for some music to start, with cabinets lining the walls stacked up like legos and a PA rigged from a couple of bass amps chained together. Two local bands played before we did, and I unfortunately don't know their names, but one was a wild noisy hardcore band with a spazzed-out singer (who turned out to be an art professor at the University) and the other was a hardcore/metal hybrid with some serious technical guitar shredding. We played and people were super-enthusiastic, even making a human pyramid at one point. It was a blast.
Hangin' with the puuuuuuuoonkkkksssssss in Veszprém
After the show we went to Aron's parents' apartment and stayed the night, on the 5th floor of an old Soviet-style apartment block. It was really comfortable and nice, Aron's parents were very welcoming, and Aron offered to let us sleep on his bed for the night - his room was covered with stickers of bands+labels we know and like (he is a big fan of Alternative Tentacles Records), and we felt so at home that we fell asleep in 10 minutes flat.     
Aron, us, and our new burnt-out Trabant
Day 22: Szeged, Hungary

In the morning, we woke up and Aron made us some tasty breakfast, then we said our farewells and headed towards Szeged, in far southern Hungary near the Serbian border. Our GPS started to get confused (a problem we would continue to have as we delved deeper into Eastern Europe), and we got old-school with the paper maps…it was kind of liberating, actually, and erased some of the always-lurking-at-the-back-of-our-mind worries that the GPS was leading us unwittingly into some kind of trap. With the help of our map and some specific instructions from our host, Attilla, we made it into Szeged by late afternoon and went straight to Attilla's house in the countryside to relax before the show. Attila lives on an awesome house located in the middle of farmland with his girlfriend, Dori, and a bunch of cute dogs. Since everyone involved were intense punk intellectual-types (Attila is a scientist), we were instantly comfortable with them and we had some good conversation prior to the show, not to mention some amazing fresh bread with delicious lima bean soup cooked from beans they grew in the yard.

Yes, there are huge eagle's nests all up on the the top of telephone poles in towns across rural Hungary

After we ate, we all headed into town to go to the bar (Jazz Cozmica) where we were booked to play later that night. The bar was a small, cozy, table-seating style place that usually books less-abrasive fare than us (we were playing by ourselves), but seemed happy to have us there and were very accomodating. Interestingly, when we arrived 2 hours before the show, there was a huge crowd (mostly middle-aged) there to watch a famous Hungarian poet. He set up onstage next to our amps and drums and began a lengthy reading, entirely in Hungarian of course. For us, knowing literally not a word of Hungarian, it was a bit like the limbo of listening to Vogon Poetry in Hitchhiker's Guide To The Galaxy, except it was just confusing rather than repulsive.

Megan in Jazz Cosmica
Right after the poet finished, the bar told us to go onstage and do a brief sound check. This was complicated somewhat by the presence of several tables of old ladies sitting inches from the amplifiers, but it took about one note from the bass to send them headed for the exits. The bar quickly emptied out, and almost immediately filled up again with several dozen artsy weirdos, partiers, and punks who had apparently been outside smoking on the sidewalk; it turned out they were all waiting for the show. By this point we were pretty stoked, and had a great time playing a long set (well, for us anyway - I think it was 40 minutes) in front of some very enthusiastic Hungarians.

Attila, who had driven separately, decided to leave his car in town overnight and catch a ride back with us so he wouldn't have to drive drunk, squeezing in the small space between the seats. When we got close to his house, we saw a long string of lights on the horizon nearby - turns out that it was the Serbian border, probably one of the only borders in Europe that is still protected. A quick look at our emails confirmed that Flo had still received no contact from the booker in Poland, who was supposedly working on 2-3 shows for us starting the next day. We decided to stay in Szeged with Attila for a day, since it looked like we had at least the next one off. Meantime, Attila started sending emails out to see if it was possible to set us up with a last-minute show in Budapest.

The next morning we woke up and began a nice day off, hanging out with Attila and Dori, eating good food, and getting a guided tour (by Attila) of Szeged's city center. When we went back to Attila's house, we all hung out talking until late in the evening again, and Attila gave us a 7" of his raging raw hardcore band Rakosi, who are awesome…all of their lyrics are apparently based on modern Hungarian folk tales, the kind of intense lurid tales of murder and intrigue that you would hear coming from a tough old drunk at a local bar. Turns out Joaquin from Limp Wrist/Los Crudos put out their 7" in the states. We went to sleep still not hearing any news from Poland (Flo had sent out 10 emails to the guy in the last week alone) and figured it was a lost cause, so Attila stayed up late chatting online with his buddy Viktor in Budapest about setting up a last-minute show.

Headless love springs eternal
Day 23: Budapest, Hungary

When we awoke late the next morning, it turns out that Flo's contact in Poland had written him back, and apparently had two shows booked for us. One of them was that same night in Krakow, about 10+ hours away across the mountains of Slovakia, and the next day's show was in Lublin, 5 hours from there and close to the Belarus border in Poland's far east - and the show following Lublin was in Leipzig, Germany, about 11 hours away. Being totally insane, we immediately began preparations to blaze our way to Poland and play the two shows. A moment of internet research, however, gave us serious pause - it turned out the show in Krakow was booked the day before, had no other bands, no promotion, and was supposed to start at 6pm - which would have made it physically impossible for us to get there in time. The show in Lublin definitely had promotion, but it had two other touring bands from afar, plus it seemed we were added to the show last-minute so we were not on the flyer or other promotional materials. As we began to seriously question the rationality of adding a total of 22+ hours of driving in rural Poland over 3 days to be able to play these shows, Attila told us that Viktor had been able to set up a last-minute show that night in Budapest - 2 hours away and en route to our next scheduled show in Leipzig. We made the logical decision and cancelled the Polish shows, with a promise to make it there next time, and breathed a sigh of relief at having ducked a logistical bullet.

Attila and Megan at Szeged University

We hung out at Attila and Dori's house for a few more hours, said some sad goodbyes, and headed into Budapest in the mid-afternoon. We drove through crazy traffic in the city center, gawking the whole time at beautiful architectural monuments surrounding us while heading straight to Viktor's apartment, where he let us in and shared some tasty pasta with us. Soon, Viktor went to work, and we decided to go walk around Budapest a bit. Budapest is a beautiful city, and we wandered all around the central castle which gave us a great view of the entire cityscape. As it grew dark we headed back to Viktor's apartment, where we met his roommate (who was in one of the bands playing the show that night).
Budapest Castle
Soon Viktor came home, we all hung out for a while and had some good conversation about all things international punk (turns out Viktor writes a column for MRR), and headed out towards the show. The show was in the basement studio complex of an old aluminum factory, which still has areas for industrial use; the space was called Bugloi Terem. There was a pretty big crowd of kids there, super enthusiastic and partying doubletime on a Tuesday night at a last minute show. The PA consisted of three practice amps stacked atop each other and lashed to a support pole in the center of the room, it sounded pretty good+distorted.

The other bands were awesome, all were oriented around raw hardcore but definitely had their own takes on the sound. PISS CRYSTALS (Viktor's roomate's band) played first, and almost sounded like an Eastern European version of early Husker Du and heavier Dinosaur Jr. stuff but in space; strong melodies and a lot of velocity with weird guitar effects and lengthy instrumental interludes. VALAMI played and were great as well - stripped-down, reverb-washed fastcore that was somewhere between weird Japanese HC and 80's Finnish HC. By the time we played, the kids present (mostly dudes, as were the other bands) were definitely sauced on cheapo 40 ounce malt liquor-type and hard cider beverages in plastic jugs that looked like liter soda bottles, and chain smoking cigarettes at an alarming rate. Everyone seemed really excited that we were playing, and the energy level was super high - it seemed like people would have danced if there was room, but the tiny practice space was pretty packed. We had a great time, and were super grateful to have such an excellent last-minute show right when, up until that morning, we thought the day was going to be a wash.

Valami

After the show, we managed to squeeze our stuff out of space between groups of wildly-gyrating and intensely-loaded Hungarian punk dudes, who were all listening to Hungarian rap (which actually sounds pretty damn good - the language sounds good with rap), dancing crazily, and wrestling with each other. We headed back to Viktor's, where we arrived at around 4am, and crashed out - Viktor had kindly let us use his bed, and was sleeping in the loft above next to his roommate (who had to wake up for work at 6am!). Definitely a good night.
What's behind door #2…?
Dec 10
Day 7: Nottingham - Final night in the UK!
Our cousin Ray and us in Nottingham

The trip to Nottingham was pretty brief and uneventful, sticking to the motorway the whole time. Finally, we got used to driving on the wrong side of the road, only to know that tomorrow morning we would be switching back. Our last show in the UK was at a recording studio/DIY show space called JT Soar. Joe C and the other guys who set it up were super nice and fed us falafel, and we were also stoked to be playing with our friends from the Sheffield show, ACE BUSHY STRIPTEASE.
Ace Bushy Striptease

The other band, COLLIDER were really great as well, playing hard and fast 80s-type post punk with a strong melodic core. Our cousin, Ray (aka AMOEBA THE SINGLE-CELLULAR BAND), met up with us before the show. Ray just graduated high school and was on a UK adventure of his own. His brother bought him a ticket to London for his graduation present so he had a week or so to bum around England. Needless to say, we were thrilled to see his face and hang around with him - he had been trying to catch up to us for a few days and kept getting lost+foiled, even having to spend the night at the bus station in Bristol at one point. Fortunately, he found us this time, although our hangout was regretfully brief since we had to leave town right after the show.

Collider

The show went pretty late, and around 1am we packed up and headed out toward Dover, so we could catch our early morning ferry to Calais in order to make it to the show the next night in Caen. What transpired was a drive into the dark hours of the night, followed by a nearly-failed search for a place to crash. We found a hotel right by the ferry dock, where we slept nervously for 4 hours, got up, and then boarded the ferry, which was late - again.


Day 8: Caen, France - Back to the Continent
Julien, Megan, and our Peugeot
John at our merch table, Caen

Deliriously, we made our way across the fog-shrouded Normandy countryside to our first show in France. By the time we made it to the venue, we were on our 7th winds and ready to do our thing. Julian, the organizer, greeted us and showed us the show space in the basement of a bar. The whole building was beautifully situated on the side of a small cliff, above a monorail track and below a picturesque medieval church. Oh, and there was a cat that looked like Hitler:

This cat is obviously collaborating with the Nazis, but at least being cute while doing it

The first band was called KIDS FROM THE PACK, which was Julian playing bass with his friend singing on guitar, backed by prerecorded drum tracks. It reminded me a lot of Dinosaur Jr., with casual vocals and noisy guitar. We got used to the lack of a live drummer after a while since the songs were good, and we enjoyed the set. The second band was LLAMMAME LA MUERTE , from Le Mans, who were another two piece - guitar and drums this time. Guillame, the guitarist, helped us a lot with contacts during the planning stages for this tour. They were super artsy, noisy, musically progressive, and fun to watch. They wore pink lingerie, jogging shorts, and tank tops and looked hella cool while doing it. We got their LP and I've been listening to it a lot at the house. The album artwork is particularly amazing.
Llammame La Muerte

The show was great and people were very enthusiastic. We slept over at Julien's house afterwards, all the band members snug in one room on futons and sleep mats. I didn't get a lot of sleep because there were a couple of people having noisy sex for basically the entire night right next to someone else who was snoring their head off. It was kind of hilarious, though, and definitely an interesting (if somewhat stereotypical) introduction to France.

Here's some video from our set in Caen:
Street Eaters live in Caen, parts 1 and 2

Day 9: Saint-Bazeille, France – School for Troubled Youth

Megan sneaks up on Earth using the Moon's wartlike shadow


We drove far south into the countryside to a school in a small town called Saint-Bazeille, a show hooked up by our good friend Seb Radix in Lyon - Seb put out Rusty Eyes on tape last year (with lyrics translated into French!) and booked almost all of the French shows, actually, and was meeting us soon in Paris to join the tour with his one-man band. At Maison Familiar Rurale, in Saint-Bazeille, we were greeted by our host, one of the main school heads, a wacky good-natured bear of a guy who had learned English by listening to classic rock records. He really liked Rage Against the Machine and the Red Hot Chilli Peppers too, as we found out a lot of French music nerds do - it seems our American musical snobbery/compartmentalism and politically-correct baggage doesn't always readily translate into other contexts, and the seeming contradictions in musical taste displayed by some of our French hosts definitely proved to be more entertaining than annoying/douche-y.

Dinner Party at the Continuation School

We were fed an amazing meal and our host had us (well, me anyway since John doesn't drink) try a whole slew of wines, because he was definitely a wine guy. He was pretty much toasted the whole time we were there. We also met and dined with Fred, who is Seb's friend and Saint-Bazeille's liason to the wider world of punk, and who actually booked us for the show. There were also a couple of good-natured young dudes whose job just seemed to be to hang out and get drunk. There was also this amazing, sagely old dreadlocked hippie named Michel who pretty much saw the entire 60s from the front lines (I think he said that he helped with the light show for Syd Barrett-era Pink Floyd at some point) and just stayed countercultural up to the present instead of selling out. His English was fairly impeccable, but since he is seriously hard of hearing the conversations didn't necessarily make linear sense. The show space was set up in their gym with fancy lights and monitors that we later found out didn't work, but that didn't matter anyway since Michel was our sound guy and (as mentioned previously) he is pretty much deaf - which also meant that everything up front was nice and punishingly loud, so we could hear it all in the main speakers anyway.
Ok, I'll admit that we were too nervous to take pics of the kids, but here's some more food porn to distract you because DAMN that food was good

Playing our set in front of 50 or 60 French teens was quite the experience. A lot of them had never seen live music before, and it was really cool watching them react. Some of them wiggled and screamed, some tried awkwardly to dance, and others quietly watched from the side and pointed their phone cameras at us. It was probably our most documented show ever, but also the weirdest. I wasn't sure if they understood what we were doing, or were into it, BUT afterwards they all surrounded us and demanded photos. I was super gross and sweaty, and I was surprised any of the kids would want to get within 5 feet of me, but they insisted and there's a ton of shell shocked pics of us standing next to French teens floating around somewhere on the internet now. We'll probably never see them, however, since they are most likely posted to some obscure (to us) French social networking site for teens that we don't even know exists.

The world's most straight-edge farmhouse, southern France

The next morning our host, who had already had a few and was making racy jokes that made all the other teachers blush, dragged us around to all the classrooms to say goodbye to the kids. They were super sweet and cheered [John: And I think all the teenage boys were in love with Megan]. I wish all punk shows were that enthusiastic. There were a lot of girls at the show who were really excited to see a woman play music, especially a traditionally male-identified instrument such as drums. Hopefully some of them develop the idea to play some music themselves. After politely refusing our host's entreaties to guzzle down some local hard liquor before we left (at noon!), we said our goodbyes and headed towards Pau.


Day 10: Pau, France - Confusion then triumph


The beautiful posters they made for our Pau show, art by Yoann Puissegur

When we got into town, we went to the address we had for the show (at Localypsyo) and found an empty lot. This did not look good. We spent the next hour driving around trying to find a payphone to call the promoter. Pay phones don't seem to exist in France anymore. We finally found one, only to discover you had to buy a special phone card to use it. The cheapest phone card one can buy is 7 euro. After much deliberation, we bought the card, only to discover that if you don't speak french you can't use a pay phone because the automated french lady voice asks you a bunch of questions you can't answer. I think at one point I somehow got the call to go through, but no one picked up the phone. We were starting to regret opting to rent an internet wifi hotspot thing instead of a cell phone.

However, using our wireless hotspot thing we rented, we just decided to wholeheartedly embrace The Future by going online and posting an SOS message on FB – addressed to the whole town of Pau. To our relief people going to the show quickly pointed us in the right direction, and we finally figured out the right address. Apparently the internet is full of lies, and information (especially dicey stuff such as a DIY space address) is often outdated, big surprise.
Either way, we were so happy to finally make it to the show, and were greeted by our amazing host, Stephan, who was out in the street. The show space was in an abandoned warehouse, and was royally set up for such occasions. Stephan, and the other members of booking collective A Tant Rêver Du Roi, fed us and the other bands lasagna, my favorite food, and some really fancy desserts.

Localypso, Pau

The first band was called VIVA BAZOOKA, and they were from Basque country in the Pyrenees Mountains (not far from Pau). They were a two piece instrumental with drums and guitar, kind of math-rocky and very musically proficient with a great drummer. The crowd grew and were super enthusiastic. The second band were called STRASBOURG and they were from Bordeaux. They had guitar, bass, keyboard, and violin, and the music was driven primarily by the violin, which was run through a lot of effects and produced some very cool sounds. They projected some really interesting videos while they played, and usually bands who do that are boring to watch, but they weren't boring. I had a hard time deciding to watch the video or the band, because I liked both.

Yoann, Stephan, Enzo from A Tant Rever Du Roi crew with Megan (second from left)

Here's some video from our set – it was really wild and fun. Stefan and his crew really blew our minds with this show – it was pretty awesome. We stayed the night with our friend Enzo at his quiet house on the outskirts of town, and after breakfast in the morning we started our long drive to Clermont-Ferrand.
Day 11: Clermont Ferrand, France - Spotlight on crime

We ended up on this show pretty last minute, after it was already booked with a Rockabilly band and a Surf band - we were just happy to have a show that night with a chance to sell a few records, since Pau to Paris is like a 10 hour drive with very high road tolls (as there are all over France). They had us play for 15 minutes early in the evening before people showed up, though entertainingly enough we were positioned as the headlining band on a flyer which had been revised that week.
It was also weird because the sound lady insisted on having this really really bright spot light (like, full moon spotlight) focused on my face the whole time so the 12 or so people in the room could see nothing but my squinty face. It also made the stage look like some weird comedy club. I asked her to dim it or turn it off, but she'd left the room. We cut several songs off our list to save my face from the sunburn and my eyes from turning into two burnt sockets.

The rest of the show was totally chill and fun to hang out at. Rockabilly isn't my thing, but this particular French rockabilly band (THE KOKOMOS) was cool - they were fronted by a stream-of-consciousness spouting older dude who kind of reminded me of Jello Biafra, and definitely lacked the misogynist/homophobic/redneck vibe that Rockabilly bands usually have. Both they and the Surf band (CANNIBAL MOSQUITOS, who played a fun set of costumed Surf wackiness ala Man Or Astroman) were super sweet and told us about all the punk bands they played in. I think they were trying to make us feel more comfortable on an awkward bill. Interestingly, between bands and after the show there was a big wall in the back of the club where they projected film (shot at the same club) of performances from all these fierce, lady-fronted local bands of a decidedly avant-punk persuasion. Oh, the irony.

One cool thing was that the club rented out a flat for housing bands after shows, so we had a great place to sleep and the other bands were really nice and considerate. John went to park the truck and got lost in the rain, wandering around the maze of medieval non-grid streets for a while until someone pointed him to the right place, and he showed up soaked, but luckily there was heat and a shower. We woke up pretty early, went back to the club to get our equipment, and scouted out some really amazing food for breakfast. Up till this point in the tour we'd pretty much been fed at every show so this was our first time getting food on our own. We went to a bakery and got some really tasty potato pie things, and shared a salad.
                                                                   
Day 12: Paris – France

The show took place in the legendary squat La Miroiterie, which has been under threat of closing down for the past few months. Last we heard they have secured the space until March, hopefully they can continue beyond that. It was here that we met up with our buddy Seb Radix, who as we mentioned before had helped us book all of the French dates (except for Nice, which John booked). John had known Seb since Fleshies toured Europe in 2003, but this was my first time meeting him and I quickly understood why John loves this guy so much - he is a seriously charming and awesome dude. Seb booked this particular show through our mutual friend Chris from the excellent Paris power-pop/punk (but not pop-punk) band YOUTH AVOIDERS, who we played with in Oakland a few months back. All the Youth Avoiders guys were there, actually, and hanging out with them again was really fun - great guys who really work hard to help the Paris scene thrive. They made some killer vegan food for us, too.
Megan with the Youth Avoiders!

We hung around for a while, talking with friends while trying to avoid a really strange and incredibly drunk hanger-out older squatter dude who looked and talked like a French punk Popeye, and suddenly a pretty big crowd showed up seemingly out of nowhere just in time for the show to start. The first band was KRIGSKADE, a local Parisian hardcore band. They were really great, and set the energy and intensity level for the show pretty high right off.

Next Seb set up on the stage for his one-man band, SEB AND THE RHAADICKS. Within minutes of beginning his set, everyone in the room dropped their jaws – Seb totally ruled it, falling somewhere on the spectrum of left-field pop inhabited by weirdos like 50 Million, Hickey, and even Andrew WK but very much his own animal. I could not believe we'd get to hangout and play the rest of our French dates with this guy – a total genius.

Seb and the Rhaadicks in Paris

We had a great time playing our set, and people definitely seemed to "get it". Our friend Gael told us that while we played there was a dude having a transcendent experience, which compelled him to shout out colors and emotions in our general direction. I was also really stoked to see a huge pack of ladies upfront. It was a really good time.

The last band was ABSURDO from Spain. They played a 15 minute set of pure amazingness. We didn't realize it at the time, but these dudes were going to quickly become our buddies and we shared the stage for 3 more shows on the rest of our tour. They are basically some of the greatest dudes, and will be touring the West Coast in a few months, keep your eyes peeled! They play old school hard core with great lyrics, a weird edge, and some serious melodies lurking inside – think ARTICLES OF FAITH, ZERO BOYS, VITAMIN X, VOID…My absolute favorite kind of HC.
Absurdo in Paris

After the show Gael and Odile took us on a whirlwind tour of Paris – late night. We saw the Eiffel tower do a fancy light show, almost got into a fight in traffic, got some serious history lessons about the city courtesy of Odile, had a terrifying swirl around in the wildest roundabout in Europe, and saw Napoleon's penis obelisk that he stole from Egypt. European history is full of stolen penises, it seems, with the most legendary penises being taken from Africa by mean little colonial despots (Napoleon and Mussolini). It seems like they didn't even make any effort to cover up the psychological subtexts lurking in plain sight. I guess subtlety isn't exactly the strong suit of megalomaniacs.
Seb's color-coordinated socks, rockin' out

We crashed at Gael's place, and in the morning he made us the fanciest breakfast with tofu scramble and home-baked carrot cake. John and I realized that we didn't have to be at the next show till later that evening, so we took the subway to the Louvre so I could see the winged Nike statue (nothing to do with shoes).
We saw lots of other stuff too, including the Mona Lisa, which had a surrounding mob so thick I assumed she would do a little dance or something for us, at least. After 10 minutes of total stillness, however, I came to realize that the Mona Lisa must take the Cat Power approach to stage antics.
"I thought the album was pretty good, but OMG, ML is SOOO boring live."

I wish we could have hung out in Paris longer, but we had to hit the road early to take the non-toll roads to Nevers, where the next show was. The rumors about France's highway tolls are true – that junk is hella expensive and so we had to be really clever about avoiding the toll roads as much as possible.

Day 13: Nevers, France – Into the depths of the catacombs
Megan hard at work invoking the powers of Medieval Metal and the ghosts of plague victims

Nevers is a city which was built early in the Medieval period, over 1000 years ago, under which there is a maze of catacombs (as with many cities in France). We pulled up to the apartment building where the show was (Chez Gerard), on a tiny street that was built before cars existed and people walked or rode horses. Our hosts (Arno, Yogui, and Gerard) were incredibly sweet and helped us carry all of our equipment down the narrow stone staircase, which took several turns till it got to the bottom room which the PA was set up in. It was totally a set for a metal music video. The vaulted ceilings were made from ancient hand cut limestone blocks, and were in a pretty advanced state of decomposition. I tried to casually lean against the wall and felt the stones crumble like cheese – and they kinda smelled fermented, and the room was super humid (we were told not to leave any equipment there overnight because it would decompose). I was a little worried about the ceiling caving in when the bands turned up the bass, but that didn't seem to have been an issue for the last few hundred years so why worry now.

Behind the stage area was a black curtain, and behind that curtain the catacombs apparently seemed to extend far off into the darkness. Our hosts told us that when they were digging a little bit to even out the stage area, they ended up finding bones (they didn't know what kind), so they quickly reburied them and left the floor lumpy - after all, Medieval catacombs were notoriously used as ossuaries and burial places for the dead during the cemetary-overflow years of the black plague, so it was probably a good idea not to dig too deep. One thing that was actually a bummer was that there was no ventilation at all, so when people started smoking the air grew thick, but it also kinda added to the mood of a medieval torture dungeon. SEB AND THE RHAADICKS brought it yet again, playing in an atmospherically-lit small niche at the bottom of the main staircase.
Seb setting up his equipment, Nevers

Also playing were a band called MUNDO MERDE (World of Shit), who were a fierce hardcore band with a really tough lady singer. We were stoked!

Mundo Merde, Nevers

After the show, Gerard graciously let us sleep in his room for the night while a party raged in the apartment till the wee hours. Unfortunately, we used my main clothes bag to block the space under the door to keep smoke from pouring in all night, and we forgot the bag the next day. Yogui sent it to Flo's house in Germany, but that meant we could not get it till the end of the tour, and it was the bag that had all my warm jackets…So fingers were crossed that the weather wouldn't be too bad.
Yogui, Arno, John, Seb in Nevers

Day 14: Lyon France – Geraldine makes the best lasagna known to humankind
Our touring buddy, Seb, is from Lyon, so this show was kind of a homecoming and was a great chance for us to feel at home and hang out with him and his awesome girlfriend Geraldine. We got to do laundry (yeah!), and listen to records. Apparently Seb has a soft spot for the Chili Peppers, which we teased him about profusely. He says it is because his kids like them, but we know the truth.

The show was pretty rad, and we got to meet a lot of Seb's friends. He played his songs with a full band for the first and last time at that show – and it was their record release. Pretty special. We had some technical problems but played intensely. There were a couple of French music blogger/zine kids who showed up to see us and were super-excited, hanging out at the merch table with us all night and drawing pictures for us then standing up front and dancing for the whole set. It was a fun night. Here's a video Seb made of us playing in Lyon:


The next morning we went to the music store to pick up a new cymbal, and the crash we bought for 35 Euros seemed like a great deal…until we discovered that it would dent, like tinfoil, every time it was hit.


John testing out some new stick sizes for Megan at the music store in Lyon

Day 15: Marseille, France – Hanging in the basement with Benoit
Holy Frost, Marseille

Marseille is a pretty intense city, but I actually enjoyed the craziness of driving through it. It was late in the evening so we didn't see much other than the city streets, but it was obvious that there was a lot of wildness going on all over; we got to really witness quite a bit of the city life since traffic was so slow it took about 15 minutes to drive each block. The space was in the basement of a speakeasy. Benoit, our friend from the legendary French duo Ed Mudshi, set up the show with his new sludge/mathrock duo, HOLY FROST, in which he was playing drums. It ruled. Then Seb played and he ruled.
Seb in Marseille

We spent the night with Benoit in the basement apartment of his family's home. Benoit showed us pictures of his now 98 year old grandmother in the 1960's, farming in what was now the front yard, and their house being the only house for miles. Since then the family sold off the farmland, and the house is surrounded by urban housing developments. That's how cities grow and sprawl I guess, for better or worse. I got to meet his grandmother, Rose, for a moment, and I couldn't believe she was 98! She seemed really happy. The next morning Benoit's mom came by and cooked us an amazing lunch/dessert snack from Sardinia (where she is from), a fried pastry-type dish stuffed with a sweet cheese and topped by turbinado sugar. It was really good. Extending from the night before, there was a really crazy wind/rain storm which followed us all the way to Nice.

Here's a video that Seb made that includes footage of Benoit's mom making the Sardinian treat, plus live footage from the next day in Nice (Halloween!!)
Day 16: Nice France – Happy Halloween from Mean America

We got to Nice a little early hoping to have a chance to see the city, but it was raining really hard. We bought our first souvenirs of the trip – two umbrellas (which we couldn't take on the plane). The show space was located in the city center, so we were able to walk around and see the old town. It was pretty much how I'd pictured France to be – kind of like old town Perugia, which is where I lived when I was a student in Italy. Apparently Halloween is kind of a new holiday for France, but the punks totally took it seriously and dressed up. The show space (Le Volume) was decorated and ready for party times, as you can see in the video above. The awesome flyer for the show is below.


Two of the other bands were two-pieces, which was pretty cool; CHILD MEADOW is from Toulon and played some great, intense emotional postpunk/hardcore (and were good friends with our Oakland buddies Big Kids). MALAISE (pictured below) is from Italy/Portugal and were two ladies playing some cool atmospheric indie-punk with beautiful vocals, it turned out that the guitarist lived in the bay area for a long time.
Our set was pretty wild and people were really responsive, though some crazy middle-aged lady started randomly hardcore dancing during our set (??) and smacked some photographer dude in the mouth…enthusiasm appreciated, though a bit misdirected. Seb killed it as usual, of course, and incited some wild ballroom dancing from college kids dressed up in animal costumes. We were sad that this was our last show with him, and in the morning it was really hard to say goodbye - we hope to lure him out to the west coast to spread his brilliance.

Saying goodbye to Seb…for now…

Our host, Nico, is really awesome and we had breakfast with him and his lady friend the next morning at a cafe that specializes in regional Provencal food. Like I said before, we weren't really able to eat out much on this tour so this was a special occasion. Afterwards we walked to the beach and it was hard to keep John from jumping in all the way. We regretfully said goodbye to our friends and headed down the coast towards Italia.
Yep. Totally the Mediterranean.

Oct 26
edinburgh to durham
Raf and John on a hike in Edinburgh
Raf and his piano
Cute English Bulldog
Megan and the Crag, Edinburgh
Megan and the weird stone witch hat monument/secret chamber, Edinburgh
Swan pond, Edinburgh
Angel of the North statue, outside Durham
In Evil Hour, Durham



DAY 5: EDINBURGH

We got up in Sheffield at 11:30am and went back to Harrison's 1854, which Dave had kindly opened up for us so we could load our stuff out - he gave us a hand carrying stuff, too, and presented us with a bottle of a special local Worcester-type sauce. As mentioned before, he is definitely the nicest bar manager in the UK. We immediately hit the highway and began the 6 hour trek to Edinburgh.

The drive into Scotland was beautiful. We took the coastal route, and got full exposure to the agrarian beauty of the rural UK landscape. As we crossed into Scotland, the geographic differences between England and Scotland became fairly evident - slightly divergent architectural styles, more forested areas left standing, more hills, more sheep and slightly less farming, less emphasis on building density within towns, lots of "Mac"s before names. I'm sure this impression was reinforced by the highway signage and advertisements on pubs, though, which proudly emphasized their respective national lineages - particularly near the border.

We got to Edinburgh around 6, and drove to the Braidwood Centre (site of our show) through pretty much the entire spectacular tourist route in this beautiful city. We stopped at a swan pond at sunset which was overlooked by some majestic ruins on a crag, drove round the crag past Scottish Parliament and Holyrood, and got to our destination, located directly under the crag though also surrounded by some very high-density, high-rise housing projects that appeared to be low income - an interesting contrast.

Like pretty much every building in Scotland, the (very pretty) Braidwood Centre is built entirely of stone, and when the kids from the first band (Walking Targets) showed up, we had a funny conversation where they expressed incredulity that we could come from a place where all the houses were built from wood. Pretty soon, our host Raf showed up, and we loaded in the equipment to get the show underway. The Braidwood Centre is usually used as a preschool and local community center, so there were a lot of children's toys and decorations about.

There is no soundproofing at the Braidwood, which was worrying Raf a bit since he hadn't hosted a loud show in this space before, and the front doors had to be opened individually for each group of arrives as the show space was upstairs. It is, however, a truly all-ages space, a rarity in the UK where people can drink at the age of 18. Thus, the number of people lobbying for shows to happen in spaces other than pubs is much reduced from the US, where drinking is (legally) for 21+. This also pretty much means that the kids usually shut out of UK shows are high school kids, who are often a bit awkward and insecure to begin with and thus less likely to agitate for all ages show spaces.

It also shuts out of the larger scene great bands like Walking Targets, who are all 17-18 and played a set of powerfully performed and well-written tunes that were (unintentionally) reminiscent of Do Ya Hear We bands from Chattanooga such as Hidden Spots. It turns out they've been playing since they were around 13, organizing their own house shows for their peers and getting really good. Raf also played solo early on the show, singing heartfelt songs over the sonorous strains of a piano that really scratched an itch I didn't know I even had for some genuinely pretty, well-played piano music. His set was punctuated multiple times by people calling his phone to let him know they were outside the Braidwood and needed to be let in the front door, since everyone was upstairs watching him. DIY indeed.

We played our set as fast n furious as we could, and people seemed to enjoy it, though near the end a bit of a ruckus erupted as the cops showed up due to our punishingly loud volume levels. They took off with reassurances that the show would be over quickly, which had the unfortunate side effect of cutting the Murderburgers' headlining set short - they blazed their way through a 15 minute set of about 10 songs (punk), and brought a lot of smiles to people's faces.

We went back to Raf's place with him and Susan, where we dropped off our sleep gear, picked up a birthday cake for their buddy Ross (who maintains the Plan-It X website), and wandered over to a nearby pub where many of the folks from the show were hanging out - including Ross. We all hung out, had some good conversation, ate some cake, and Megan discovered the glories of alcoholic ginger beer. Something I've noticed in the UK pubs, particularly the more traditional ones, is that the lights were not super low and they don't play obscenely loud music the whole time so you can actually have a decent conversation. I wish it was like that more in the US.

We headed back to Raf's after a while, did a couple rounds of ridiculous YouTube vid sharing, and went to sleep. The next morning, Susan and Ross had to take off early on trains, but we went with Raf on a hike up to the medieval abbey ruin we spotted on the crag the evening before. It was a beautiful, sunny fall day, perfect for a hike and hangout. We regretfully left town about 3pm, heading to Durham, happy we had a few minutes to play tourist in Edinburgh.

DAY 6: DURHAM

We took the inland, country road back to Durham, passing thru lots of picturesque country towns along the way. One thing I've noticed in the UK, particularly it's more temperate regions, is that literally every inch of land seems transformed by human activity, claimed and farmed - it is bucoliclly beautiful, but in contrast to the US there is essentially no open space. I could imagine this would get confining after a while, leading to such reactions as colonialism and Crass lyrics. It is really pretty however you slice it, and damn nice to visit. We stopped at an exceptionally picturesque cemetery, where we found a pile of discarded metal plates near a shed that were probably as old as America.

We got to Durham about 7, after a quick stop at the rusted industrial beauty of the Angel Of The North sculpture outside town (one of the few truly awesome pieces of public art in existence). Durham is a picture-perfect British university town, filled with historic architecture, riverine passageways, and stone-paved streets. JC (who we know from his old band Fashanu) met us at the fish and chip shop located on the level below the Fish Tank pub, which is pretty much ground zero for Durham's punk/DIY scene. It is a pretty great pub, run by punks with lots of good attitude to go round, and as soon as Nathan (Onsind) showed up we got a crew together to load the gear.

After Nathan bought us a couple burritos from a shop down the street (which were surprisingly decent), we went back to the Fish Tank and enjoyed sets from CJ, who played an acoustic set of heartfelt songs with good personal/political lyrics, and In Evil Hour, a tight 4-piece with a kickass lady singer that sounded a little like F-Minus. Our set seemed to be well-anticipated, and a few people even knew the lyrics; it was a great time.

Following the show, we headed back to Nathan's house, where he and his sister Naomi (who is also his bandmate in Martha along with J.C.) grew up. Following some excellent political conversation with Naomi, J.C., Nathan, and his partner Laura (who was celebrating her birthday), Naomi kindly let us sleep in her old bed, as she and J.C. live in a nearby town now. We got a great sleep and got up in the morning to hang around with Nathan, hearing a bit about his PhD work and stimulating our brains with more great conversation. He also made us an amazing vegan English breakfast that took care of us all day long. Around 3pm we hit the road to Nottingham, knowing we had a long road ahead since we were driving all the way to Dover following the show that night in order to catch our early ferry to France…
Oct 23
[video]
Sep 25
New EP Release and European Tour in Oct/Nov
Street Eaters' new, self-titled EP has been officially released as of September 25 and is available for free streaming+cheap download now on
http://streeteaters.com/
The EP is also coming out on limited-pressing 12" vinyl October 15, in Europe on Germany's excellent Cut The Cord That…Records (home of Neon Piss/Hard Skin/Synthetic ID/1981/etc.) …
http://

ctct-records.tumblr.com/
Music video for the song "Window":
http://vimeo.com/streeteaters/window
**Before we leave for Europe**
Thursday, October 4
RVIVR
STREET EATERS
+more
@Thrillhouse Records, S.F.
** Upcoming UK/Europe Tour Dates - specific details/updates on shows can be found at
http://streeteaters.com/
**
OCTOBER
16 Koln (DE) - Nantoka Bar
17 London (UK) - Black Heart (Camden) -
www.facebook.com/events/361544210586794/
18 Bristol (UK) - Stag and Hounds -
www.facebook.com/events/372241189528816/
19 Sheffield (UK) - Audacious Art Experiment (venue announced soon)
20 Edinburgh (UK) - The Braidwood Centre -
www.facebook.com/events/459991047379680/
21 Newcastle/Durham (UK) - Fish Tank
22 Nottingham (UK) - JT Soar -
www.facebook.com/events/104740473011173/
23 Caen (FR) - El Camino -
www.facebook.com/events/218560864937830/
24 **HELP!** We need a show someplace between Caen and Pau in France!
25s Pau (FR) - tba
26 **HELP!** We need a show someplace between Pau and Paris in France!
27 Paris (FR) - La Miroitere w/Seb Radix -
www.facebook.com/events/257213131057490/
28 Nevers (FR) - Chez Gerard w/Seb Radix
29 Lyon (FR) - La Triperie w/Seb Radix
30 Marseille (FR) - La Salle Gueule w/Seb Radix
31 Nice (FR) - Le Volume w/Seb Radix -
www.facebook.com/events/425428687514291/
NOVEMBER
1 Genoa? (IT) - tba
2 Roma (IT) - tba
3 **HELP!** Ljubljana? Italy?
4 **HELP!** En route to Erlangen…Italy? Austria?
5 Erlangen (DE) - Jugendhaus
6 Budapest (HU) - tba
7 **HELP!** En route to Poland - Vienna? Bratislava? Kosice (SL)? Brno?
8 Poland - tba
9 Poland - tba
10 Poland - tba
11 Leipzig (DE) - Zoro
12 **HELP!** Berlin (DE)
13 **HELP!** Hamburg (DE)
14 Kiel (DE) - Schaubude (tentative)
15 **HELP!** Denmark? Southern Sweden? North Germany?
16 **HELP!** Denmark? Southern Sweden? North Germany?
17 **HELP!** Bremen?
18 **HELP!**
19 Tübingen - Epplehaus (tentative)
20f Mannheim (DE) - Juz
21f Münster (DE) - tba
22? **HELP!**
23j Amsterdam - OCCII
Jul 14
From the South To the South West, Do Ya Hear We?!
Chattanooga- Do Ya Hear We ?!

We left Athens early with the hopes of skipping brutal Atlanta traffic. Little did we know that was the least of our concern. It was 108F and up, and we don't have AC. It was only a 3 hour drive, but our brains were melting, and this was to be the first of several horrific drives of our tour. Even though it was probably the shortest, it was by far the hottest, and we weren't used to it. However, when we crawled our way to Sluggos, we were greeted by our buddies, and tenderly fed some of the best vegan food our world has to offer.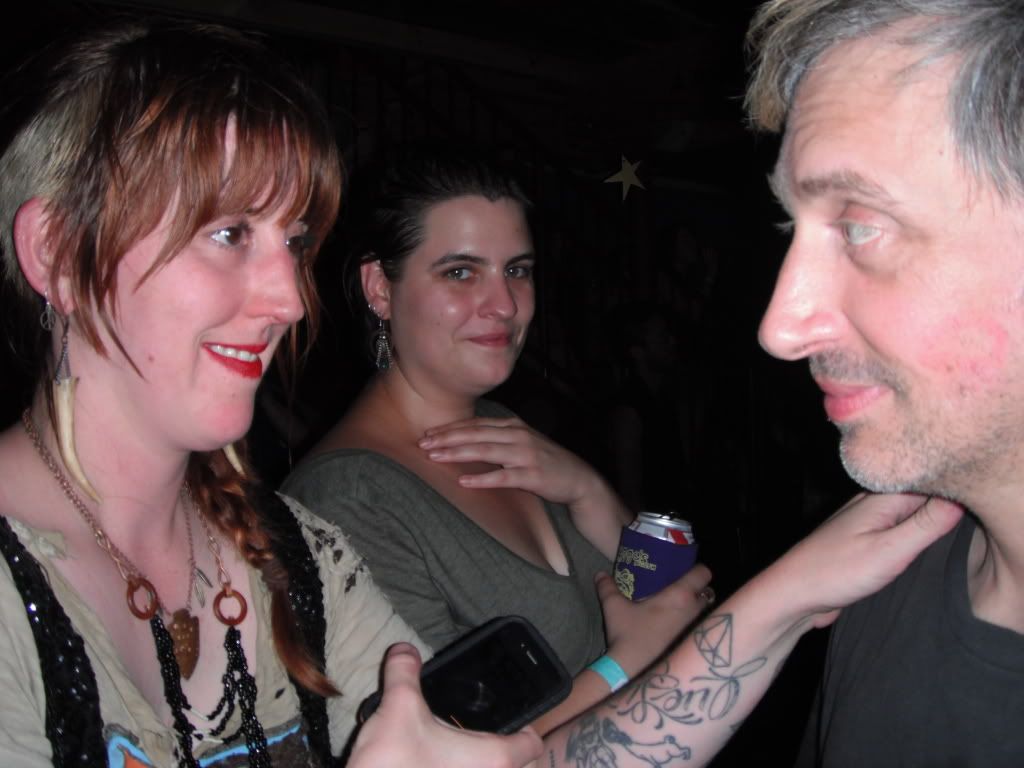 Arriving in Chattanooga always feels like coming home. Both John and I have been visiting/playing shows there since over 10 years ago, and lots of friends from around have since moved there, so it's always super exciting to see everybody.

Sluggos was decorated with hanging stars, and equipped with AC (we heard there wasn't any last year, so this was a relief). Ready for action.
Kinda like PIX Fest, the bands were all super amazing. DYHW is a little more drunken (well, a lot) and that was totally okay. It was a good time. Here's a cool shot from our buddy Ryan Maddox, who later ruled it with his band HIDDEN SPOTS.
My friend Chad escorted me up to the front for the last few songs, and we entered the people soup. When the night ended everybody looked post-sexy times- as though we had all been hosed down with warm water. My clothes were even more drenched than when we played.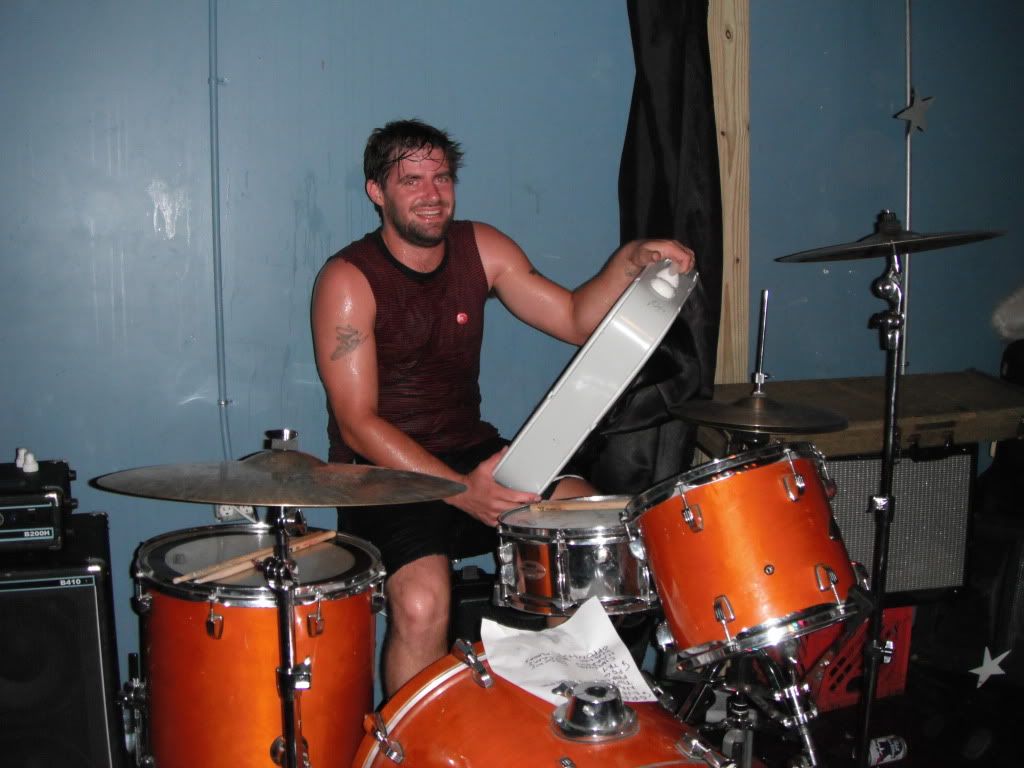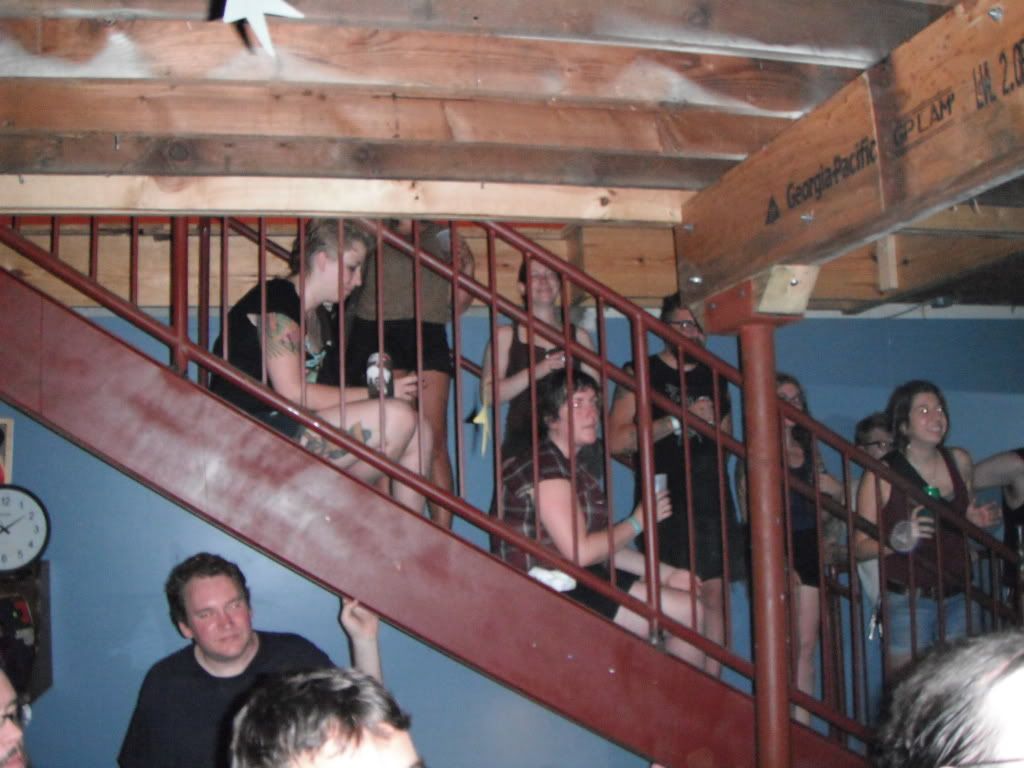 We stayed with our buddies Chad (different one, RAG RAGE Chad) and Britt (also RAG RAGE). Her other band VERY VERY SNEAKY also ruled it - with their all star line up.

The next morning (well, more like afternoon) we wanted to go swimming, so we hooked up with our friend Natasha, who you might remember from our earlier tour in the Fall in Hamilton Canada (please see the pic of her and John and the hay barrel). She was in town with her friend from Baltimore, and we rode into the Chattanooga mountains in search of a swimming hole. This turned out to be an epic adventure, because we ended up parking in the upper lot, having to hike down into the canyon, and Natasha had an injured foot, so once we got to the river, it had already been a long trek.
There were some other folks swimming, and even though we were super polite, they told us to "move along and find some other place" in a not-so-endearing redneck way. They weren't too friendly, and since we didn't want to get into a fight, we ended up in a lame-o spot about a foot deep. Natasha was a total trooper and was determined to party - she's got good style (see photo below).

The second night of bands was awesome as well. I was so excited that our friends SNARLAS from Athens OH made it, and they ruled. After the show, we had some more quality times with Chad and Britt, and stayed up till 6am talking. We didn't end up waking up till around 1pm the next day, cause we really needed the sleep and their place is super comfy.

I spent a lot of time hanging out with one of my favorite people ever, CRYSTAL, and below here's a picture of us being awesome…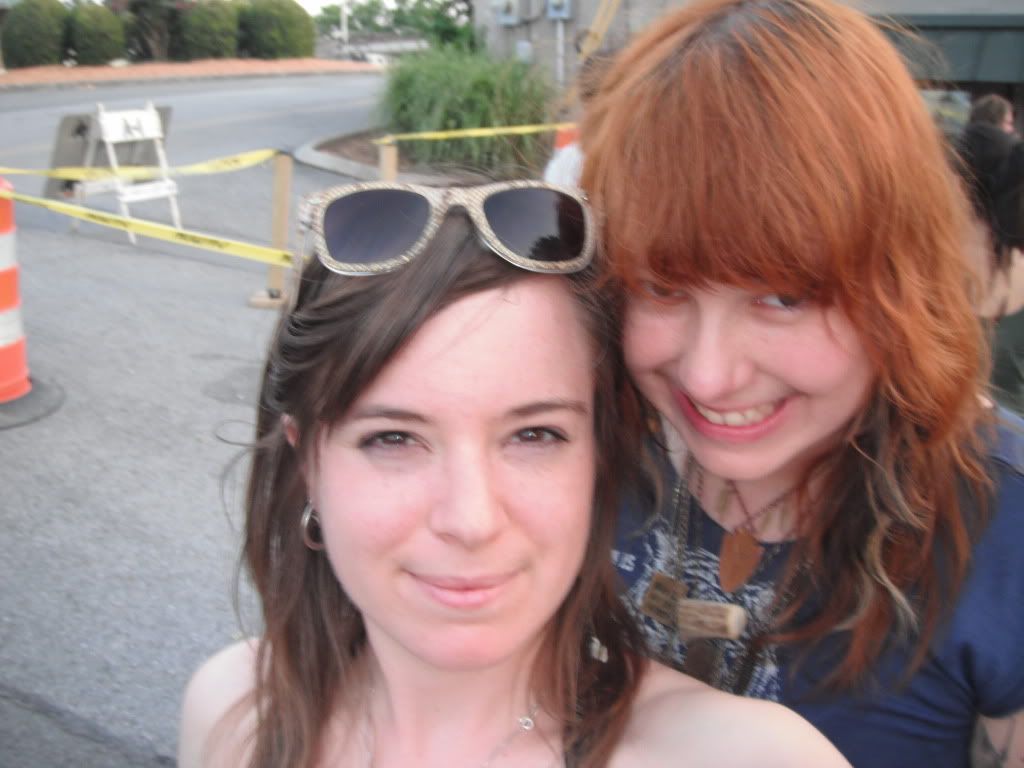 We were bummed we couldn't stay for the Sunday show, but we had to keep moving.


Carbondale- IL - Lost Cross and Night Swimming

I've heard many stories about the punk house Lost Cross in Carbondale, and John's played there before, but this was my first time. It was pretty intense, but not as crazy as my imagination led me to believe. Is it weird that I wasn't shocked? When we loaded into the basement, lots of creatures ran when we turned the lights on. They kind of just looked like harmless jumbo crickets, but who knows, maybe they had teeth. The show was really rad, just us and AUTONOMY - featuring our friends Ray Suburbia and Nick Fitt. They were trying out a new thing; a local film student had made a movie and was doing projections while they played. It totally worked! We were stoked to discover that they we will soon be label mates because they too are going to be putting something out soon with CUT THE CORD…..THAT records in Germany. I also really appreciated that they handed out lyric sheets.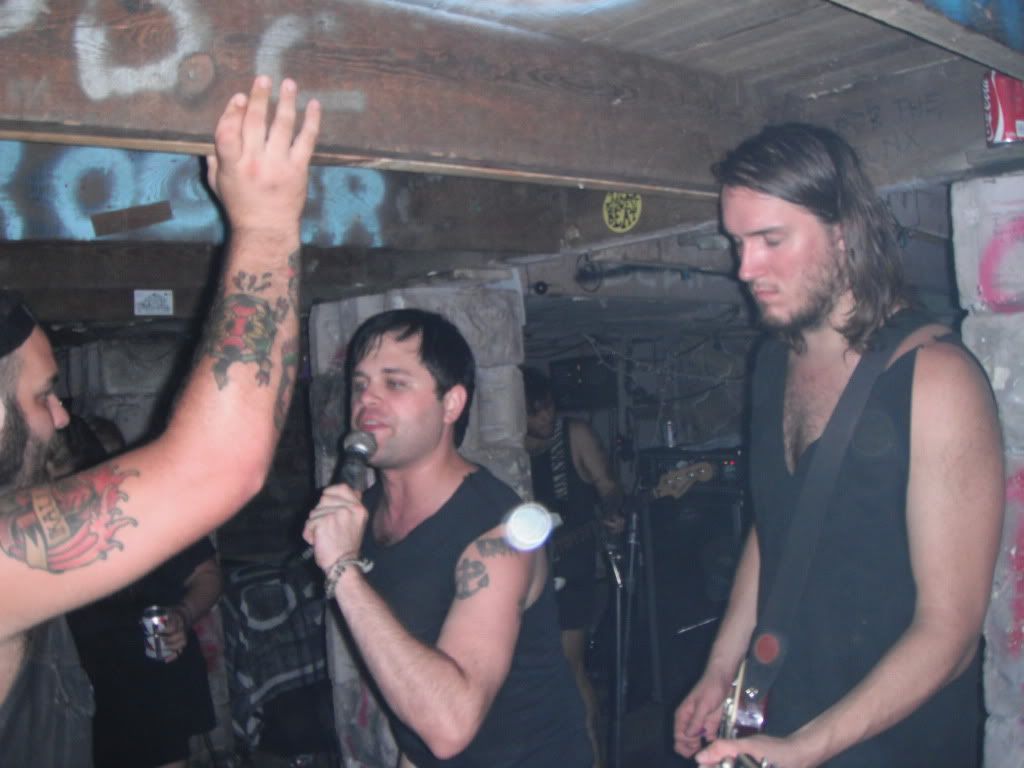 After the show we went to this lady's parents' house that had a pool. I think it was a full moon, and people were getting wild. There were some naked chicken fights, and we did a circle pit in the pool, turning it into a giant whirlpool. Pretty awesome.
Tulsa OK- You Are Rad!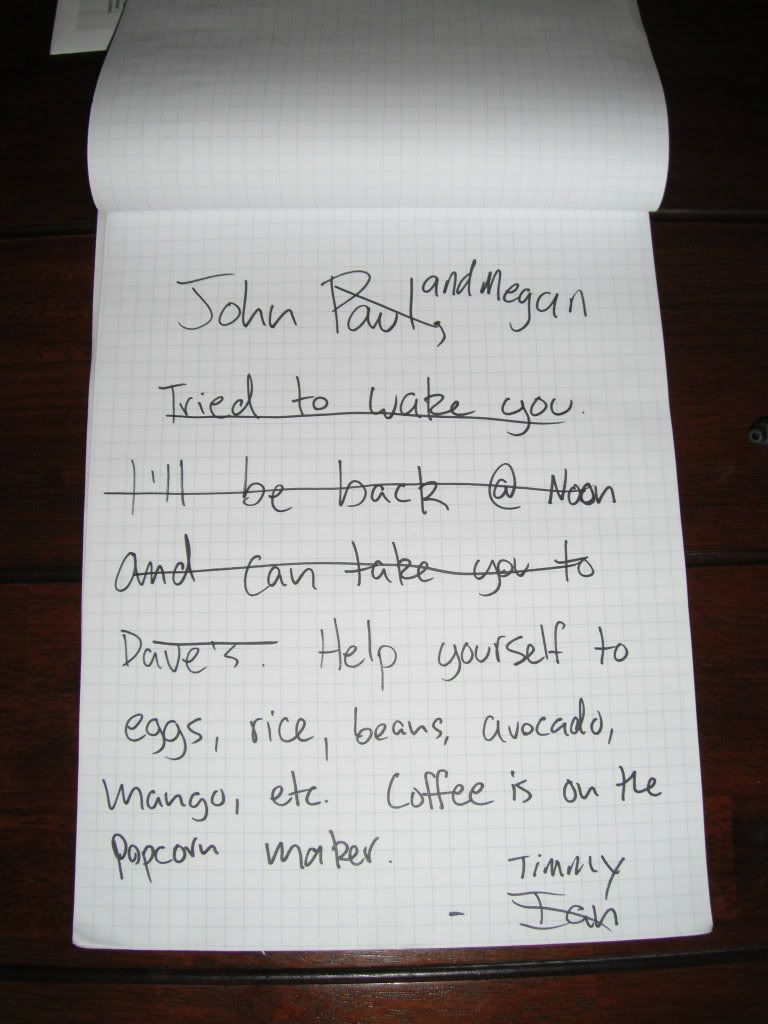 Tulsa brought it, even on a Monday night. Our friend John Paul's band POLIO INSURANCE played, and they were rad. We played with them before, but with a different name and sans John Paul, last time we were in town. Timmy was our host, and he treated us to some delicious pizza and let us take over his room - he's a very sweet guy. He left us this note in the morning:

Albuquerque- NM - We Saw the Car Wash From Breaking Bad…..

…But didn't take a picture. Oh well. What we did take pictures of was the Petrified Forest Park, on the way. There were lots of letters in the museum from people who had been cursed after stealing rocks from the park, which we thought was pretty creepy. Needless to say, we didn't pocket any petrified wood.
We got there a night early so we could hang with John's Aunts, who I guess are now my Aunts too. It's always a pleasure to spend time with Johnny's family cause they are such rad people.

Our show was set up by another rad lady, Jessica Mills. We think she is such a badass, because she totally is. She traded us a record for a copy of her book, MY MOTHER WEARS COMBAT BOOTS. The show was really rad, and it was 4th of July! As you may remember from our tour the same time last year, we lost a wheel off our truck on 4th of July weekend last year which totally screwed us, so the whole day I was holding my breath for something really bad to happen. Nothing did. It was awesome.
Jul 06
Into the Midwest and South!
Chicago!
Chicago is so much fun. My only complaint was that we couldn't hang out longer. The show was at the same spot we played at last time with This Is My Fist, but it has since changed ownership and is now called Township. Our buddy Jennifer was our sound lady again, and she's totally rad. She's been doing board recordings of the shows there and did one for our show and once she sends me a link for it I'll post it here.
Anyways, this was the second of our two shows with the Pedro/SF pack with KID LITTLE and JUS' FOLKS (see photo below). Those dudes (and Larry AKA Babe who flew in!) were awesome and a lot of fun.
97 SHIKI - totally blew my mind. John had seen them before, but last time we were in town we hung out a lot, but I didn't get to see them play. We got their tape and it's been in constant rotation in our living room for the past year, so I was so juiced to hear the songs live. The four piece is so tight, and I love Kammy's drumming.
TREASURE FLEET features some of our favorite buddies Dave and Issac - there's a lot of rad dudes in this band. They brought the party jams with a touch of Sid Barrett.
Here's a total action shot from the show!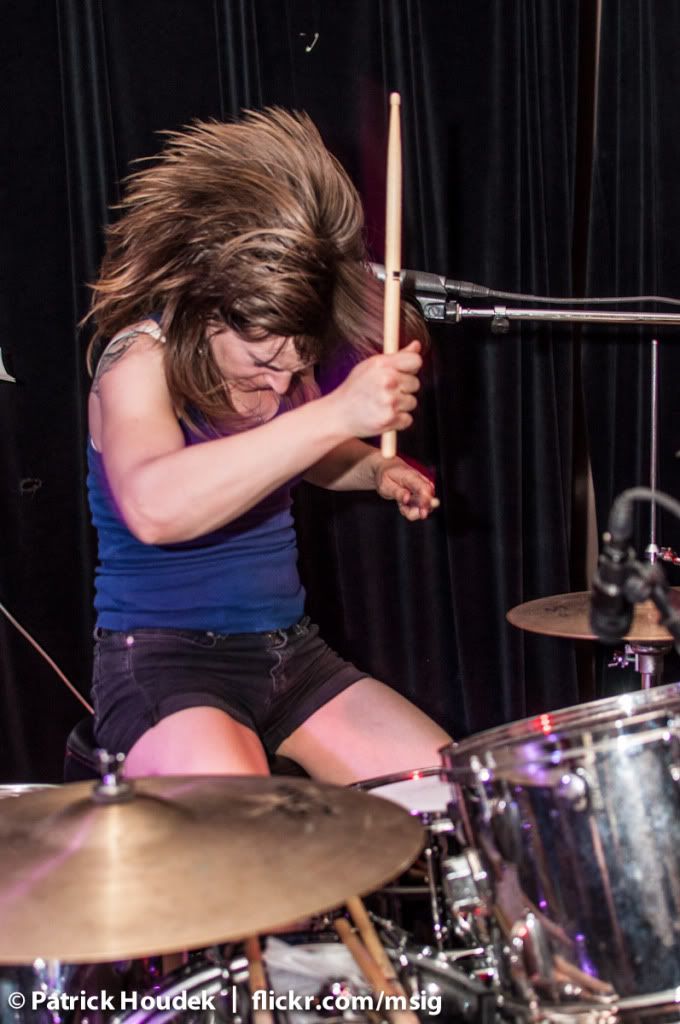 ——>
I also got to meet up with my old band mate from MASTER VOLUME Jack - he moved to Argentina and has since been seriously missed.
We had some serious hang out time with our buddy from the bay David Holtz, and rocked out.
Bloomington, PLAN-IT X FEST!
So many awesome bands in one weekend. We rolled into town and went to the Owlery to check out the art show and see the pieces I'd submitted. It was a little hard to see everything because it's a popular restaurant and there were people eating in front of all the art, but what I saw looked really great.
Here's a snap shot I took of one of my prints before I sent it off:
Plan-it X Fest can be really overwhelming with so many friends in one place. We were excited to play and it was a total blast. I can't believe it went so fast. We've done so much touring and hosted so many of our friends in touring bands this past year that seeing everybody in one place didn't seem too weird.
Buddy Time: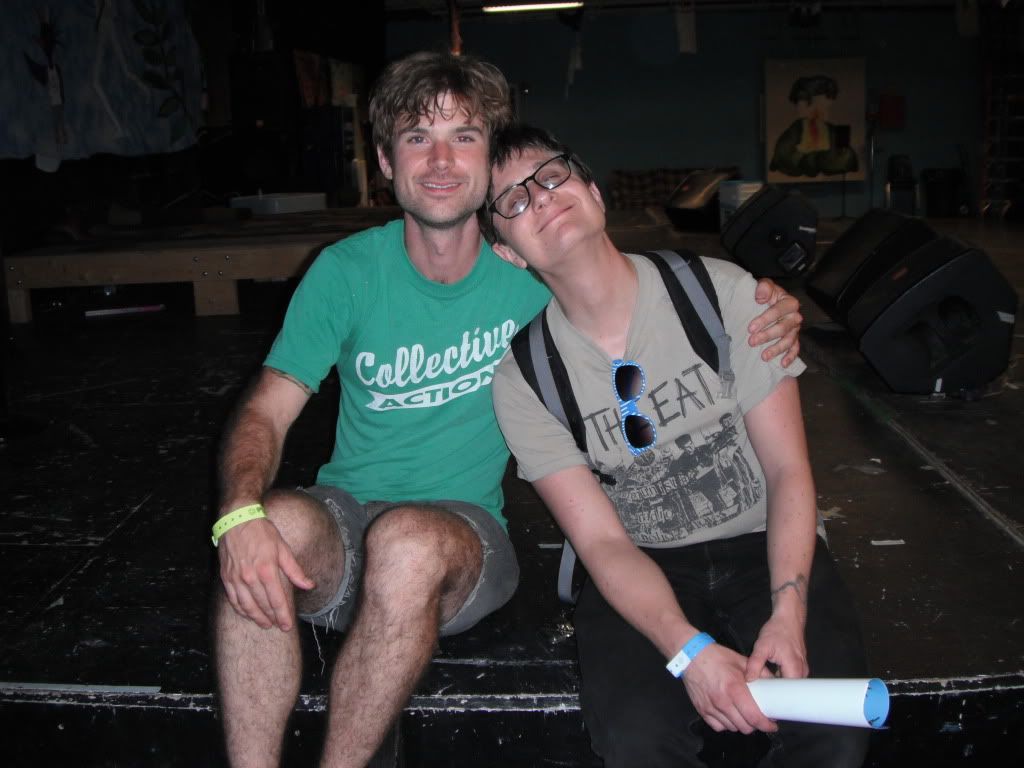 Johnny and Will
We ended up staying with Chris Clavin at his sweet house, which we had some quality time at on the Monday after the Fest was over. We were pretty sad to leave though, but awesome times awaited us…….and here's a pic of ZIPPERS TO NOWHERE! There is some serious talk of a split 7" happening……stay tuned.
ANNIVERSARY TIMES!- Dollywood? Nahh!
Just like last year at the same time, John and I celebrated our anniversary on the road. Two years of being hitched, and still mooney-eyed.
We'd considered going to Dollywood in Tennessee, but got talked out of it by a few people we met in town in Gatlinburg. Instead, we got a cheapie hotel, hung out in our undies watching cable, walked around the creepy tourist town, snuck into a hotel pool (ours didn't have one!) and went to a haunted house on the river. The haunted house was totally worth it, we got stalked throughout the whole thing by some crazed teenage juggalo thespian who kept scaring the crap out of us since we were the only people there! The next day we drove into the Great Smoky Mountains and saw some amazing views. Totally romantic.
Asheville- Static Age Records!
We arrived a little early and went to the Rosetta and ate some much needed salad, thanks to Cassie - a friend of a friend who understands touring bands. Next door at the record shop, our friend Jessie who keeps the place going was moving stuff around to get ready for the show. The most important item was the new air conditioner, which our buddy Morgan helped hoist into the air, without falling. It was all quite graceful.
Local heros YES MA'AM rocked it first, it was good seeing our friend Bradley wail it on guitar. Then came WADE BOGGS from Athens, and they ruled it. They were handing out CDRs of their recording, but I'm keeping an eye out for when it's officially released. We did our thing, which felt really great. Fellow Bay Area dwellers, BOBBY JOE EBOLA, finished up the night.
After the show we headed back to our friend Morgan's place to do some much needed catching up. Both John and I have known the dude forever, and it's always so great to see what Bay Area ex-pats are up to. In the morning John and I spotted an owl in Morgan's backyard, which we took to be a good omen.
Athens- ELLA!
We rolled into town straight to Ella's house! She totally knows the way to our hearts- good food and coffee! John, also from the amazing band DEAD DOG, also helped set up the show, but he wasn't feeling too hot so we met up with him later at the show.
The show was at the top floor of The Globe, which had many stairs to be conquered. BOBBY JOE EBOLA did their acoustic thing to start things off, and opted to fill the room with their voices sans mics. The stage was kind of a separate room from the crowd, which made the sound extra great when we played - I went for it and beat the shit out of my drums. Local ANTLERED ANTLORD also played and they were really great. They had a smoke machine and totally got wild with rubbing their guitars on everything.
Later that night we all hung out at the house, and it was nice to see our friend Cara Beth who we'd played with last time in her badass band WITCHES.
CHATTANOOGA- DO YA HEAR WE?!!!
So much to say, so little time…….to be continued!!! xoxoxo
Jun 22
Reno, Salt Lake, Minneapolis, Milwaukee, by the skin of our TEETH
RENO: We started out the tour with a drive through the Sierras to Reno. We were so stoked to get to play with John's cousin Liz, her son Ray, and husband Steve in their band Sporazoan, as well as Elephant Rifle (who we played with last time). The show was in the basement of our buddy Clark's house, and it was rad.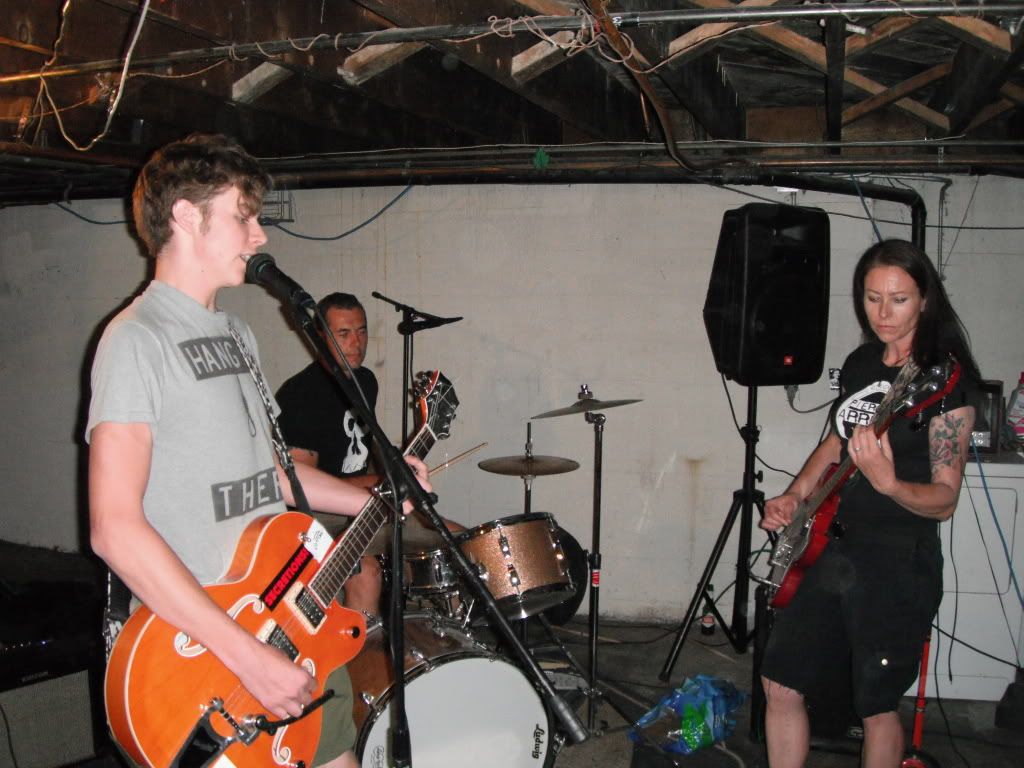 Sporazoan!
The real adventure began after the show, when we broke down right outside of Reno at 2am. We coasted off the freeway, and into the parking lot of the worst Super 8 ever. It was hella expensive, and the bed was broken. We didn't sleep. In the morning we got the truck (named Mad Maxine when she's good, Miss Lemon when she's bad) towed to the mechanic.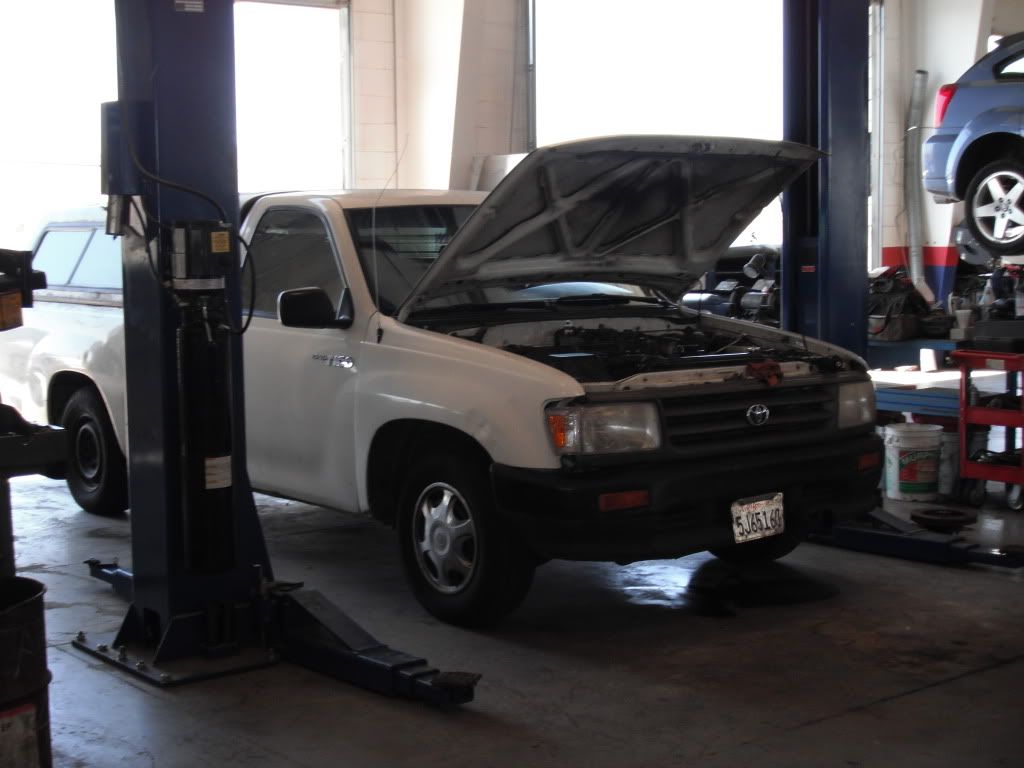 The shop was really awesome and all the dudes were really sweet to us. They were sympathetic to our situation, and tried to get us on the road asap. The rough thing was figuring out what was wrong (which we figured out was the fuel pump, after replacing the spark plugs and fuel filter) and then waiting for the part. Around 5:15 they dropped the truck and we were off, speeding our way to Salt Lake trying to make it in time for the show.
SALT LAKE CITY:
We arrived at 1am, thinking that the show was going to be totally over, seeing as how it was a Monday night. We'd been in constant contact with our dear buddies Box and Jake (of our favorite SLC band, HANDICAPITALIST) during our 7hr drive, so they knew our sitch. We drove SO fast, and stopped once for gas. John pissed in a bottle, twice. We were on a mission.
So anyways, we got there, and the HANDICAPITALIST were playing! They totally ruled it! We'd played their first show with them around 3 years (?right?) ago in a drive way in Salt Lake, so it was really cool to see them in full force. We were kinda surprised people stuck around that late. Then we played -we had a lot of aggression to get out after that drive. Totally worth it. The dudes living at the house (Ben and Ryan) were super sweet, and had an awesome dog named Champ.
The next morning we all went out for breakfast at the vegan cafe next to the house where the show was. Then it was time to hit the road! We had 20+ hours of driving ahead of us to get to Minneapolis……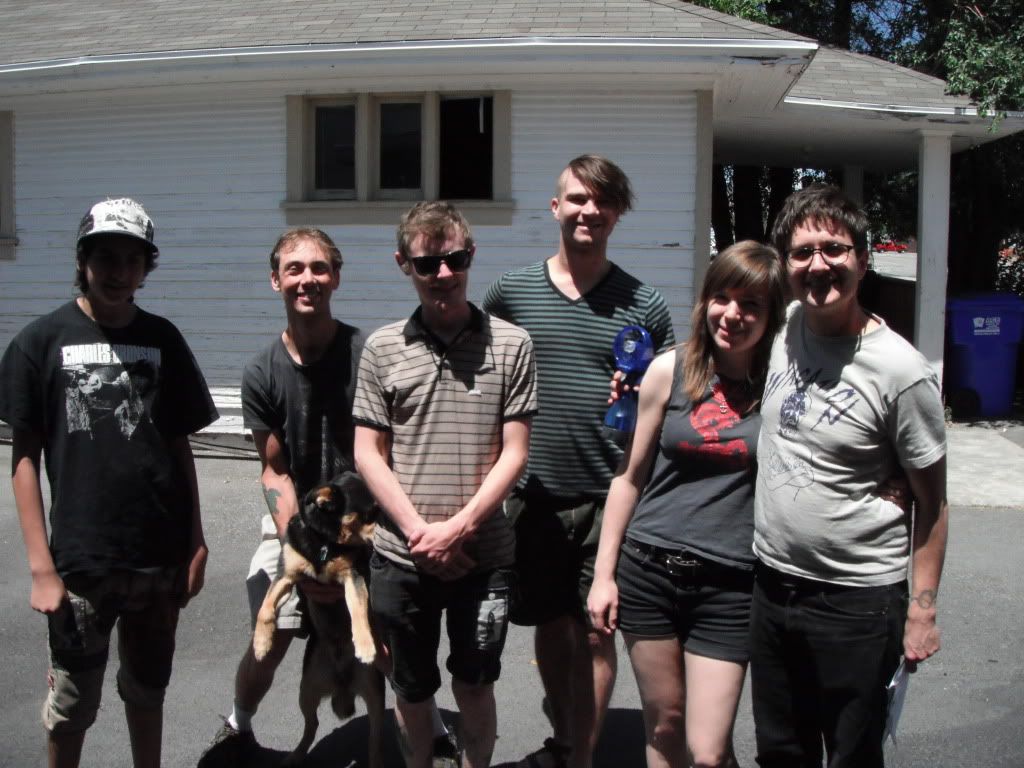 SLC Crew in full effect 
Minneapolis:
Driving for 20+ hours straight is really weird. No matter how many tapes you bring, you get bored of them all. At the end of the first day, around 1am we got really into Geronimo's autobiography on tape. I'd learned a little bit about him as a kid, but I don't think I'd realized to what extent of a badass, relentless fighter he was. The Apache were getting screwed by both Mexico and the US, and he kept fighting. We're only on the 10th chapter right now, I'll let you know how the rest is.
When we were approaching Minneapolis, there was a colossal rain storm that blinded us on the highway, making it feel like we were driving in the ocean. When we got into town, the rain was gone, and after that crazy drive, we felt the clouds part in our minds.
Our hero of a friend C-Gull had set up the show at Triple Rock. All the bands, SUNDOWNERS, DIRTY HITS, and HARD FEELINGS were really great. We'd gotten a text from our buddy Mike Wilson earlier that HARD FEELINGS were going to be late because of the city of Duluth having a record flood. Apparently, the city was so unprepared for it that lots of animals from the Zoo escaped. Mike's basement flooded and he lost A-H of his record collection.
None the less, it was rad to see so many friends we'd not seen in a while and hang out. We were so stoked to have made it after the long drive, that I forgot to take any pictures. Ooops….
Oh yeah, and I'd forgotten my drum rug in Reno, so C-Gull was totally crafty and made me a new one. It's the best drum rug I've ever had.
AND let it be known, that while I was hanging out in the side room to the bar with Nato Coles, I recognized the Mata Hari pinball machine's chimes - I know that machine better than any other.
Milwaukee:
The drive to Milwaukee was a snap. We were really excited to play with UH-OH, and our fellow Cali comrades JUS' FOLKS (sf) and KID LITTLE (Pedro). It was so much fun playing in the basement of Ground Zero, and seeing UH-OH again. It was also nice to feel like we were finally on tour, instead of trucking across the country hemorrhaging our souls out of our road-glued eye balls.
Here's a pic of UH-OH - don't be fooled - there are actually 4 members, the camera just couldn't fit in all the rock!
We crashed at our friends Alison and Jesse's house. We slept like rocks, and in the morning Alison fed us tasty fritatta and muffins with strawberries from her backyard - with coffee of course.
We hit the road to Chicago, where we are now posted at a coffee joint and hanging out. Tonight's show is gonna rule, especially since I've never seen 97-SHIKI before, or TREASURE FLEET! Ahh!